Fire At Will is a great new restaurant in the Phoenix area
Fire At Will boasts a neighborhood feel along with a diverse menu with several options you wouldn't find anywhere near that same neighborhood.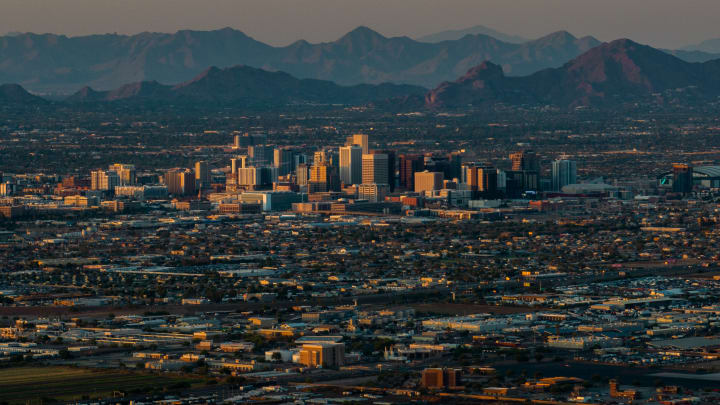 Arizona's Extended Extreme Heat Wave On Track to Break Its Record For Longest Stretch Of Days Over / Brandon Bell/GettyImages
The Phoenix, Arizona area deserves more consideration as an excellent destination city in the United States. It boasts a bustling nightlife and an amazing cuisine scene that is worth a visit for any traveler or local. Fire At Will is one of the new restaurants in the area, making the case that it's a "neighborhood" restaurant even though it features some flares found in many international destinations.
Located on East Shea Boulevard, features a diverse menu with options for customers of varied tastes. For example, one could order the spicy soba noodles, the beef Bolognese, or the stacked enchiladas – three very different items from cuisines not fully local to the United States. Then there's also the hush burger, which is a featured item that hits home for anyone looking for a good, old-fashioned style burger. There are also several sharable items on the menu for those looking to either get a smaller meal or split something with a date. The Iberico ham croquettes, frite street fries, and lamb tartare are three that stand out, but just a few items in this varied selection.
Fire At Will also has a Neighborhood Night menu which is a three-course offering at $44 per person. Customers can choose from three options for each course to round out their meal.
The drink menu features several unique cocktails, wines, and beers. Items like the Big City, Julio by the Bay, and the Sloe & Steady are interesting takes on drinks that many will recognize. There's also a fully stocked bar where you can order your favorite mixed drinks. The beers list features options that would please any beer connoisseur, along with the standard Miller Lite. The wines are broken into reds, whites, sparkling, and rose.
Fire At Will considers itself a local attraction, but it is certainly a spot worth a visit if you're in the area on a trip. Whether it is a visit during lunch or a dinner date, this is a great addition to the growing scene around Phoenix, Arizona.